Libraries
Music Library
Personnel
Jade Kastel
Music Librarian

(309) 298-2147
jm-kastel@wiu.edu
About the Music Library
The Music Library houses a collection which includes over 12,000 books on music; 18,000 performing, study, and scholarly scores; 11,000 recordings; 500 videos/DVDs; and about 50 print periodical titles as well as electronic access to many more. Although the collection focuses on Western art music from the Middle Ages to the present, it also supports the School of Music's curriculums in music education, music therapy, music business, musical theatre, jazz, popular music, and world music. In addition to the physical collection, the Music Library offers access to a number of music-related databases and indexes, as well as two streaming audio services.
The Music Library has four large tables that will seat groups ranging from three to ten, six study carrels, and a selection of soft seating. Twelve computers (ten PCs and two Macs) provide audio, video, and online research access. One computer has Finale 2014 and a MIDI keyboard installed. Additional equipment includes a small TV to view videos and DVDs, two black and white printers, and one scanner.
Loan Periods for Scores

|   | Undergrad | Graduate | Faculty & Staff |
| --- | --- | --- | --- |
| Ms | 4 weeks | 8 weeks | 16 weeks |
| M2s & M3s | No Circulation | No Circulation | 1 week |
Loan Periods for Books
 
Undergrad
Graduate
Faculty & Staff
MLs & MTs
4 weeks
8 weeks
16 weeks
MTe Series
1 week
1 week
1 week
Periodicals
do not circulate (except by permission)
3 days
Reference Books
do not circulate (except by permission)
Loan Periods for Media

|   | Undergrad | Graduate | Faculty & Staff |
| --- | --- | --- | --- |
| CD & LP | 1 week | 2 weeks | 4 weeks |
| Recital CD | 1 week | 1 week | 4 weeks |
| DVD & VHS | 2 weeks | 2 weeks | 2 weeks |
Loan Periods for Other Materials

|   | Undergrad | Graduates | Faculty & Staff |
| --- | --- | --- | --- |
| Reserves | 2 hours | 2 hours | 2 hours (Faculty may check out their own items for 1 week) |
| Restricted | 2 hours | 1 week | 1 week |
Collection Highlights
Research Guides
Below are links to guides created by the Music Librarian to help you with your research. These guides serve as an introduction to the many resources available to you through the Music Library and beyond.
General Music Guides
Music Department Research Guide: This guide consists of basic information about finding items in the Music Library, selected print and online music resources, a Turabian citation guide, and recommended resources for each music major area of study (music education, therapy, business, etc.).
Using Library Catalogs & Music Databases: This guide consists of detailed  walkthroughs that will show you how to use library catalogs and databases, including WestCat, I-Share, WorldCat/Interlibrary Loan, Oxford Music Online (Grove), Music Periodicals Database (ProQuest), and Naxos Music Library.
Careers in Music: This guide consists of recommended books and websites about careers in music, a list of professional organizations in music, selected resources about applying and interviewing for jobs in the field, and an extensive list of websites with job and audition postings.
Guides for Specific Courses
Music 190: What to Listen for in Music
Music 242: Music Industry Career Preparation
Music 390: European Art Music I
Music 242/441: Current Issues in Music Business
Databases & Indexes
Oxford Music Online is the home of Grove Music Online, the world's premier online music encyclopedia, offering comprehensive coverage of music, musicians, music-making, and music scholarship.
Other Oxford resources formerly included in Oxford Music Online can now be accessed through Oxford Reference:
**Please note that our license allows for a limited number of users. If you are unable to access Oxford, please wait a few minutes and then try again.
Music Periodicals Database (formerly IIMP)
ProQuest's Music Periodicals Database -- formerly International Index to Music Periodicals (IIMP) -- offers access to over 610 international music periodicals, of which 225 are full text. While the majority of journal articles are from 1996 onward, this database also includes journal articles from as early as 1874. Music Periodicals Database covers the full spectrum of music, including music education, musicology, music theory, performance, ethnomusicology, musical theatre, classical music, opera, jazz, pop culture, popular music forms, and composition.
JSTOR offers access to retrospective issues of selected core scholarly journals in many disciplines, including music. It includes full-text access to about 50 music journals, and partial or citation level access to many more.
Dissertations & Theses Global (ProQuest)
Dissertations & Theses Globalindexes 2+ million dissertations & theses of accredited institutions; 600,000+ in full-text.
IBISWorld provides regularly updated U.S. industry reports and company benchmarking.
IPA Source is the web's largest collection of International Phonetic Alphabet (IPA) transcriptions and literal translations of opera arias and art song texts. It includes more than 11,000 titles by more than 900 composers.
Project Music contains over 175 multi-disciplinary journals.
Streaming Audio Services
Naxos Music Library is the world's largest online classical music library. It currently provides access to more than 127,000 CDs with more than 1,918,000 tracks of both standard and rare repertoire. Over 800 new CDs are added to Naxos every month. 
***Please remember to log out when you are done, as our license allows for a limited number of users. If you are unable to access Naxos, please wait a few minutes and then try again.
The WIU Music Library has been archiving digitized recordings of recitals from the School of Music since the fall semester of 2013. Current recitals are added as they are received, and older recitals are in the process of being digitized and then added. The digitized recordings and their programs are available to current students and faculty through this archive. Users can search for recordings by title, performer, composer, or date.
Giving to the Music Library
The Music Library primarily serves the Western Illinois University School of Music, supporting its six undergraduate degree programs, ten graduate programs, and three minors. We play an integral role in each student's learning experience, as they rely on us for access to books, scores, and media items; research assistance and instruction; group and quiet study spaces; and printers, scanners, and audiovisual equipment. Through your past generous support, each year we:
Welcome over 33,000 visitors
Check out nearly 5,000 items
Answer over 1,500 reference questions
Provide library instruction and services to over 200 music majors, as well as many other students taking music electives or performing in WIU ensembles
Your contribution will help us continue to provide the superior service that our students deserve. We welcome the opportunity to discuss both monetary donations and gifts of materials.
Every gift makes a difference!
Monetary Donations
There are many different ways to give to the Music Library. You can make a gift today, make a pledge to give over time, or develop a giving plan.
Our two current funding priorities include: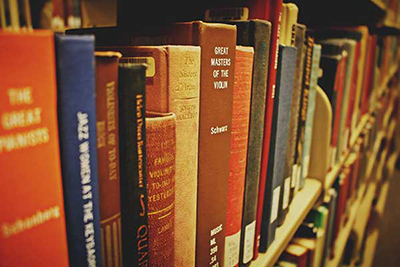 Expanding the Collection
The acquisition of new books, scores, CDs, DVDs, and online listening subscriptions is required to most effectively support the curricula of WIU School of Music. The ever-increasing inflationary rate to purchase new materials demands a strong collection development budget, which is currently not supported by state funds.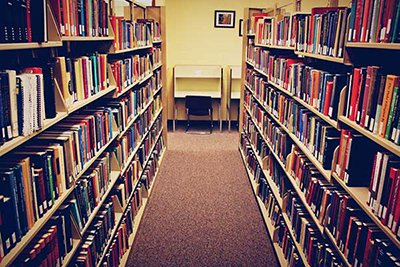 Revitalizing Library Spaces
Students visit the Music Library not just to check out materials, but to use our equipment, study alone or with a group, or simply take a few moments to relax between classes. To support these needs, we must continue to upgrade both our equipment and our environment.
To make a donation online, visit the University Libraries' Development page. At the bottom of the form, make sure to designate your gift to the Music Library!
To discuss other giving opportunities, please contact Jeanne Stierman, Interim Dean of University Libraries, by phone at (309) 298-2762 or by email at JD-Stierman@wiu.edu.
Gifts of Materials
The Music Library accepts gifts of items that will enrich and enhance the music collection. However, due to space constraints and processing costs, there is a need to be selective about what is accepted. Gifts are not "free" to the library in the sense that time and supplies are expended in cataloging, processing, and possibly binding them.
All donations will be reviewed by the Music Librarian for potential inclusion in the Music Library's collection. All items will be checked to determine whether the titles are already in the Music Library's collection or on order. In general, second copies will not be added, except as approved by the Music Librarian. Titles not in the Music Library's collection will be reviewed and accepted or rejected based on the Music Library's collection development policy.
Items that are not added to the collection may be included in fundraising endeavors to benefit the Music Library, such as a book sale.
Upon receipt of gifts, a "Gift Donation Receiving Report" is filled out by Music Library staff and copies are forwarded to the WIU University Libraries' Acquisition Unit and the WIU Foundation Office. The donor will then receive a receipt from the WIU Foundation Office listing the sum of the items received. Neither the University nor the Music Library will give appraisals of items for tax purposes, except for a nominal sum of $5.00 per item for books, scores, CDs, and video recordings; and of $1.00 per item for paperback books and unbound sheet music.
Inquiries about donating items to the Music Library should be directed to Alonso Rubio, by phone at (309) 298-1105 or by email at AO-Rubio@wiu.edu. Arrangements for receiving the donations will then be made.
Instant Messaging
JavaScript disabled or chat unavailable.
If the chat window is visible above just type your question in the bottom text box and hit return.